The Sacrament of Penance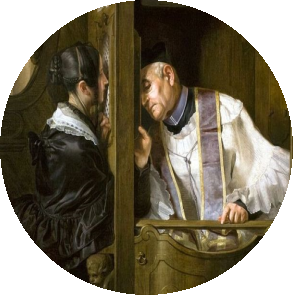 Matthew 9:3-8 "And behold some of the scribes said within themselves: He blasphemeth. And Jesus seeing their thoughts, said: Why do you think evil in your hearts? Whether is easier, to say, Thy sins are forgiven thee: or to say, Arise, and walk? But that you may know that the Son of man hath power on earth to forgive sins, (then said he to the man sick of palsy,) Arise, take up thy bed, and go into thy house. And he arose, and went into his house. And the multitude seeing it, feared, and glorified God that gave such power to men."

John 20:19-23 "Now when it was late that same day, the first of the week, and the doors were shut, where the disciples were gathered together, for fear of the Jews, Jesus came and stood in the midst, and said to them: Peace be to you. And when he had said this, he shewed them his hands and his side. The disciples therefore were glad, when they saw the Lord. He said therefore to them again: Peace be to you. As the Father hath sent me, I also send you. When he had said this, he breathed on them; and he said to them: Receive ye the Holy Ghost. Whose sins you shall forgive, they are forgiven them; and whose sins you shall retain, they are retained."

"The tears of the penitents are wine for the angels." -- St. Bernard
The Sacrament of Penance -- also known as "Confession" is such a gift! It can be very hard to do -- it can be intimidating, and feel embarrassing -- but once absolution is given, you will walk out of that confessional feeling like a trillion bucks. Christ, in His most Holy Wisdom, gave us this precious Sacrament to literally and truly bestow His grace upon us through His priests as a means of forgiving us and assuring us of His mercy and love for us. This psychological benefit of "feeling assured" and "clean again" stems not only from the supernatural fruits of the Sacrament, but from our human nature and our need to purge ourselves of those things that plague our consciences. Christ, the Great Physician, knows us well and knows that "confession is good for the soul," in both a supernatural and psychological sense. As G.K. Chesterton wrote:
"When a Catholic comes from confession, he does truly, by definition, step out into that dawn of his own beginning... in that brief ritual God has really remade him in His own image. He may be grey and gouty; but he is only five minutes old."
There are many people who've been terrified to go to Confession; all I can say is be a brave soldier and buck up and "just do it." Christ Himself wants this of you, so just resolve to do the right thing. Millions of Catholics over the course of 2,000 years have braved the "little dark box" (at least metaphorically; though Confession has been around since Day 1, the Confessional is a 7th. century Irish gift to the Church); you can, too. Priests have heard it all, trust me, and nothing you say can ever be repeated to anyone in any way that could identify you -- not to the police, not to another priest, not to anyone under any circumstances -- even court orders, even if something is revealed that could pose a danger to someone, etc. In fact, a priest is excommunicated if he were to violate the "Seal of Confession"!

And if you're worried because you're "new at this," that's okay! It's okay to be nervous! It's okay to be afraid because this is something new and different to you. And it's okay to tell the priest how you feel. Just let him know it's your first Confession; he will put you at ease and help you through it and be so glad you've come to receive the graces our Lord wants to pour out on you!

It's not as scary as it seems to so many people. Really. But if you're still afraid, take a deep breath, pray for strength, go to Confession and receive His wonderful mercy! You will not regret it, I promise you!

If you've just been validly baptized, you don't need Confession, because Baptism wipes away all guilt of sin (and the temporal effects of sin, by the way). If, however, you were validly baptized years ago and are just now coming to this Sacrament for the first time, or if you're a Catholic who's been away from the Church for years, you might want to schedule an appointment with your priest to make what's known as a "General Confession," which includes sins of one's entire life, since it might take a bit longer than usual (general Confessions are also often made before before marriage or ordination). Normally, though, a person who's raised Catholic makes his first Confession right before he receives his first Holy Communion, usually at around the age of seven.
[By Vox Clamantis ("the voice of one crying out"). This article was edited for use for Traditionalcatechism.com. You can view "Vox Clamantis" online articles at Fisheaster.com. Disclaimer: The views and opinions expressed by "Vox Clamantis" at Fisheater.com are those of the authors and do not necessarily reflect the teaching of the true Catholic Church.]
---