Tabernacle: The Tent And Its Boards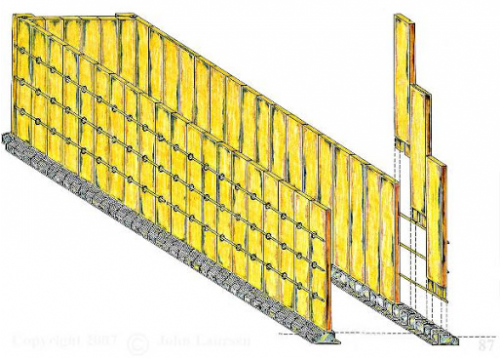 The tent of the tabernacle is described in Exodus 26:1-27. It was constructed with boards made of acaia wood overlaid with gold. Acacia wood is considered incorruptible. It is very dense and resistant both to disease and insects, just like cedar. Trees, in that they grow out of the earth, typify man since we were made out of the dust of the earth. The Acacia in tree is most descriptive because it grows in very dry, dusty, desert-like places. This not only symbolizes Jesus being both God [gold] and Man [wood]. It also symbolizes the members of the body of Christ today who although human, have been made partakers of the Divine nature. There were 48 boards in all, each of them standing upright, not laying down. Why 48? Because (according to one scholar) the Bible says of you and I in the New Testament that we are "In Christ," 48 times.
By whom he hath given us most great and precious promises: that by these you may be made partakers of the divine nature: having escaped the corruption of that concupiscence (lust) which is in the world. (II Peter 1:4)

Each board had two legs that sat in two silver bases, or sockets, for stability when resting on the desert sands. The two silver sockets, that the legs of the gold covered boards fit in speak of the redemptive work of Christ on which we stand securely in the wilderness of this world. The "Two" footings are representative of two things: Jesus' death; and Jesus' resurrection……which equal our redemption. Silver, throughout the Old Testament, pictures our redemption.
There were moreover a hundred talents of silver, whereof were cast the sockets of the sanctuary, and of the entry where the veil hangeth....A hundred sockets were made of a hundred talents, one talent being reckoned for every socket. (Exodus 38:25, 27)
And the atonement money received which was contributed by the children of Israel, thou shalt deliver unto the uses of the tabernacle of the testimony, that it may be a memorial of them before the Lord, to make an atonement for them and that he may be merciful to their souls. (Exodus 30:16)
The two legs symbolizes faith and obedience that should be found in each believer, for stability in the desert of this world. Those who major on faith without obedience will be as unbalanced as a board with just one leg. Those who stress legalistic obedience with faith will also be equally unbalanced.
All of the Golden boards are facing each other without any gap between them. They are exactly the same size and shape as every other board, not one above another. Each "Board" can only "See," as it were, the golden exterior of every other "board." symbolizing the close fellowship that should exist between the members of Christ's body.
And now I am no more in the world, but these are in the world, and I come to thee. Holy Father, keep through thine own name those whom thou hast given me, (his apostles) that they may be one, as we are.…..Neither pray I for these alone, but for them also which shall believe on me through their word; That they all may be one; as thou, Father, art in me, and I in thee, that they also may be one in us: that the world may believe that thou hast sent me. And the glory which thou gavest me I have given them; that they may be one, even as we are one: I in them, and thou in me, that they may be made perfect in one; and that the world may know that thou hast sent me, and hast loved them, as thou hast loved me. (John 17:11, 20-23)

Each board had exterior loops through which golden bars were placed, to hold the boards together. This symbolizes that besides faith and obedience, we also need close fellowship with each other in the Body of Christ if we are to be stable Christians. A fifth golden bar was passed internally from end to end through the middle of all the boards. This is a depiction of Christ IN us, the Hope of Glory He is inside; hidden from view.
All believers are held together by Jesus as it says in Ephesians 2:21. In whom all the building, being framed together, groweth up into an holy temple in the Lord.