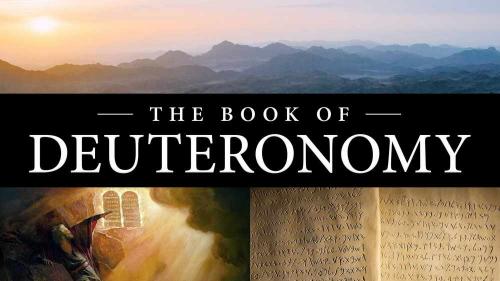 The Book Of Deuteronomy: Repetition Of The Law And Review Of God's Dealings.
An Introduction
"Deuteronomy" means "a second law." This is because there is a repetition here of many important aspects of the law.
We can divide this book in two ways. We can divide it first of all, as three speeches that Moses gave:
First speech (Chapters 1-4).
Second speech (Chapters 5-26)
Third speech (Chapters 27-30)
And all of this was spoken by the man who told the Lord at the burning bush that he could not speak!
The book concludes with the song of Moses (Chapter 32), the blessing of Moses (Chapter 33) and the death of Moses (Chapter 34).
The second way to divide the book is to see it as looking in three directions:
Looking backward. Two messages looking back at God's faithfulness during the 40 years in the wilderness (Chapter 1-11).
Looking upward. Two messages looking up at God-though His laws. Through God's laws, man sees his need (Chapter 12-31)
Looking forward. Two messages that look forward to the wonderful things that God would do in the future. (Chapter 32-33).
All of us need these three looks in our life. We should never stop having these three looks, no matter how old we become.