The Golden Altar Of Incense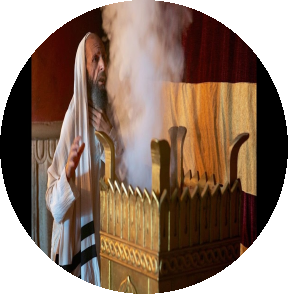 The altar of incense represents prayer.
"Let my prayer be directed as incense in thy sight" (Psalm 141:2)
And when he had opened the scroll, the four living creatures, and the four and twenty ancients fell down before the Lamb, having every one of them harps, and golden vials full of incense, which are the prayers of saints: (Revelation 5:8).
Prayer is an expression of our dependence on God. Prayer (like this incense) must rise from our hearts to God at all times.
And when Aaron sets up the lamps at twilight, he shall burn it, a regular incense offering before the Lord throughout your generations. (Exodus 30:8)
And he spoke also a parable to them, that we ought always to pray, and not to faint...(Luke 18:1)
Moses was commanded specifically that this incense was to be prepared in a certain proportion only for the Lord and never to be made for any man.
And the incense that you shall make according to its composition, you shall not make for yourselves. It shall be for you holy to the Lord.
(Exodus 30:37)
This symbolizes two things.
First of all, it symbolizes that we cannot pray to God in our own merit.
"In the Name of the Father and of the Son and of the Holy Ghost is not a magic word (or mantra) that we use to come before God. It implies that we come in the merit of God alone. If we pray as those who "deserve" to get answers from God because of some imagined merit in us, then such prayers are not being offered in the Name of the Father and of the Son and of the Holy Ghost. Praying using the Trinitarian formula, is not only a witness to the doctrine of the trinity, but it implies that the only standing that we have before God is what we have in Him. Those who consider themselves better than others will find that God answers the prayers of those others and not their own, because those others go to God without any merit of their own.
Secondly, this symbolizes that we must never pray for anything for our own benefit.
Whatever we do, we are commanded to do for the glory of God alone.
Therefore, whether you eat or drink, or whatsoever else you do, do all to the glory of God. (I Corinthians 10:31)
Every prayer that we pray for ourselves should also be for the glory of God. This is one of the reasons why the continual prayer of a just man availeth much. -because he seeks God's glory alone n everything. (James 5:16)